Nested away a stone's throw away from O'Connell Street, is Mind the Step Cafe and Dance Studio in Great Grand Street, Dublin 1. This cafe resides in the reinvented space of the old Foam Cafe. Housing both a coffee house and two dance studios, Mind the Step is quite a unique addition to the caffeinated scene of Dublin.
It was brought to life by Marta and Seán in 2018, creating speak-easy room for anyone to chill. Mind the Step is one of Dublin's very few open late coffee stores, ready to embrace any caffeine-craving soul till 11 pm Mon-Sat, and until 9 pm on Sunday.
First, coffee…
Mind the Space serves 3FE beans. On the espresso menu, there was a Monumentum Blend. An equal mix of El Salvador with Guatemala and Nicaragua beans, fully washed, is the house roast, full of chocolate and nuttiness. The V60 pourover options change frequency, based on 3FE's new arrivals. Alternatively, you can grab a decaf option, available on the grinder.
This time, I was given a selection of El Salvador beans, from the natural Alaska with strawberry and pecan hints to the washed La Ilusion with more sweet, toffee bouquet of flavours. To start, I went with a Monumentum flat white. I would describe it as a "polite" cup of java, smooth and lightly sweet. Not a standout, but still tasty to compliment your afternoon treat. My next choice was Alaska, the only natural El Salvador on the card. The filter coffee had a clean taste, lightly piquant due to its strawberry notes. It balanced out bakes such as a coffee walnut bun by tuning down the intensity of sweet elements through its zestiness.
Food
The cafe offers a variety of bites, especially in a dessert department. From classic cookies to muffins and sweet buns, you can quickly satisfy your cravings. There are also some gluten-free options available for anyone who might need to skip out on wheat. On a savoury side, there are toasties: the classic Ham and Cheese, a veggie Margarita with the homemade Marinara sauce or the ever-present Avocado on Toast. The latter turns out a bit tricky for me. The lemon was quite overpowering, dominating the whole dish. Random chilli flakes resurfaced here and there, but without any significant impact on the flavouring. I had tried the meaty toastie a few weeks earlier: a simple lunch snack, good for a fast munch-on to keep you going until dinner time.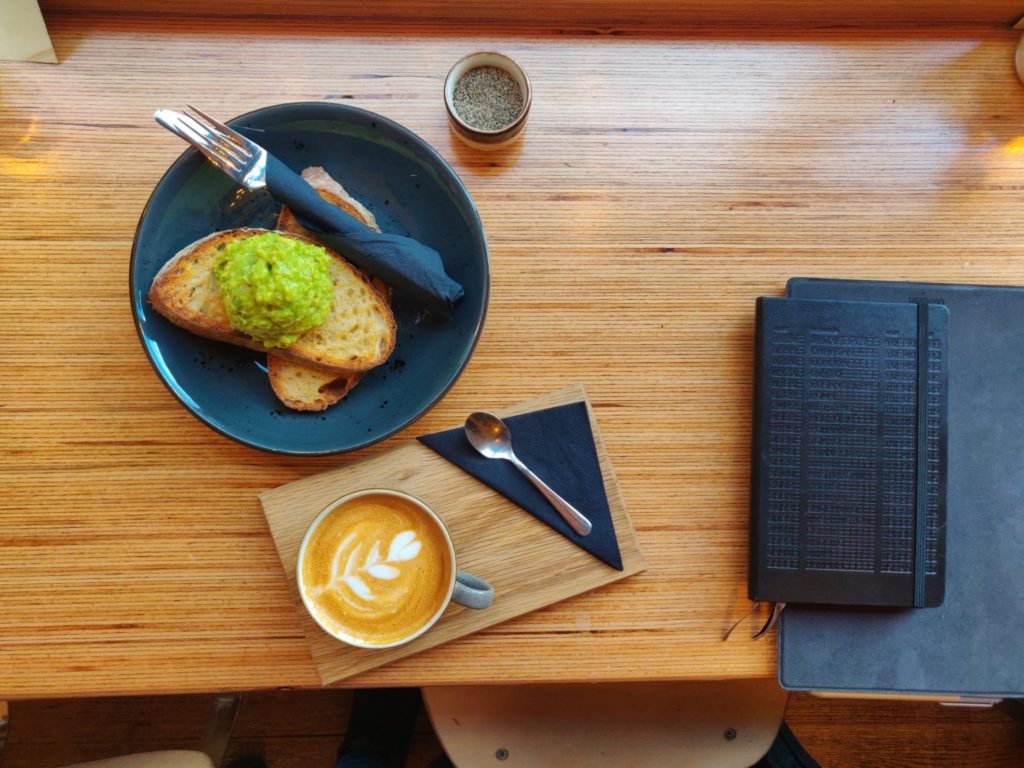 In the Cafe
Mind the Step steps out the mould of function singularity. The space morphed from the kitsch-infused whimsicality to the understated functionality with nordic vibes. The large front window lets in natural light that bounces around the white walls and ceiling. Apart from random licks of greenery, the decor is quite minimalist. Simple light wood table tops line up in two rows, with a large vintage dark wood communal table just placed by the barista station. Under the flight of stairs, leading to one of the dance studios, there is a pocket of bookshelves and armchairs. It is a handy spot to hide from prying eyes for anyone who needs to tune out. I really like flights of swallows stretched across the entrance, a lovely accent well-tuned to the cafe's ambience.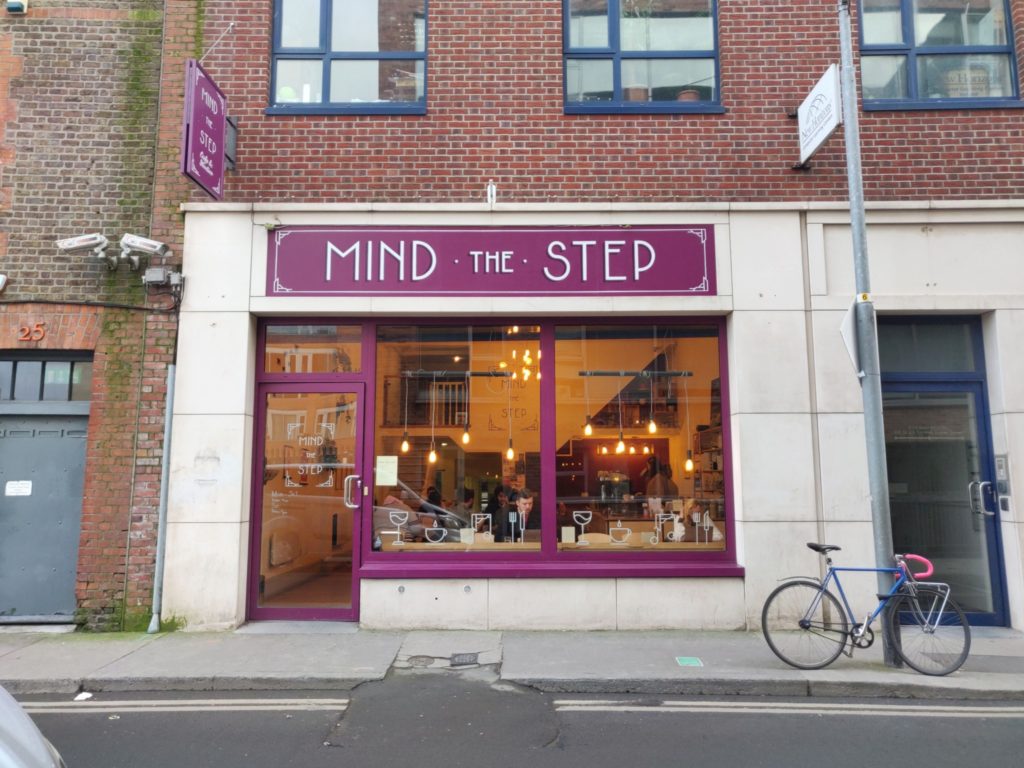 Quick notes
Mind the Step in Dublin 1 is a late open cafe, serving coffee, tea and food seven days a week. It also houses the dance studios, with regular classes and movement-related activities such as pilates or yoga. They serve 3FE coffee, with a v60 pourover menu of single origins and the Momentum blend as their house blend. Gluten-free bakes available.