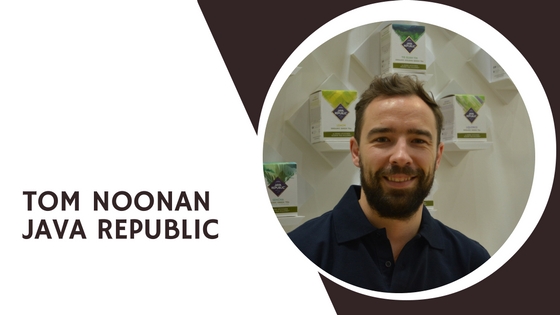 A few months back – time flies for sure! – I had a chance to sit down with Java Republic's Tom Noonan and asked him a few questions about his passion for coffee, Java Republic, and Tom's plans regarding his caffeine-driven addition.
How did your adventure with coffee begin?
I always liked good coffee. I would call into new coffee shops in town, such as Coffee Angel or Clement & Pekoe. At that time I was mainly a cappuccino drinker- however, my coffee adventure began two years ago when I started working with Java Republic. I expanded my coffee knowledge significantly. Now, I am working with coffee because I love it. I love people who are in coffee – I am lucky to work with amazing people like Vini Arruda, who are so passionate about what they do. I love the passion that you can feel in coffee, and I love the passion in Java Republic. You know it when you meet our team. We are a proud Irish company that believes in supporting Irish and independent businesses. It's great to see new independents springing up on the scene as it helps grow our coffee industry.
You can feel the amount of time and dedication in every nook and cranny of the roastery. But I have to say, the place can be a bit tricky to find!
You could say the roastery is a bit out-of- the-way. That's one of the reasons we decided to open the cafe on Molesworth Street, off Dawson Street. We want to show people the best of what we do and what Java Republic is all about: a beautiful place to come for world-class coffee and tea.
It ties back to the Bean Society, Java Republic's coffee subscription. You not only offer coffee lovers a variety of the world's beans delivered to their door but also do workshops and special events.
The Bean Society helps us show how much we care about coffee and roasting it. It is an artisan process – you can see that when you come into our roastery. We roast our beans by hand, air-cool them and treat our coffee in the best possible manner to create a taste profile you will love. We want our Coffee Citizens to dive deeper through special events such as cupping sessions at our Molesworth St café where they can learn more about different tastes and origins. They can discover all the subtle aromas in their cup, or see why a Brazilian coffee tastes different to an Ethiopian one. It is just about teaching people how to taste great coffee. We are proud to be part of the coffee industry in Ireland and we want to show people what is so good about it.
The coffee scene in Ireland is very vibrant. What would you like to see next?
People now are talking about the next wave of coffee coming. It will certainly come to Dublin, but this event will accelerate that. I think that 2-3 years ago Dublin may have seemed to be lagging behind London in terms of how the coffee scene was evolving. Now, you can't go anywhere in the world that does better coffee than Dublin. The level of knowledge in the Dublin and Irish barista community is huge and to bring that knowledge to the public is priceless. Personally, what I'd love is to go to origin to see first hand the growing, harvesting and processing of the coffee cherry. Now, I can explain how the coffee goes from a seed to the coffee roasting process to your cup: but I've seen only pictures of coffee cherries growing. Coffee in Vietnam is something that really interests me so if you gave me a choice I think that is where I'd love to go.
What would be your two favourite coffee spots in Dublin, apart from Java Republic of course?
My favourite coffee shop is actually outside the city centre: Ebb and Flow in Clontarf, run by David Smith & a group of really talented and friendly baristas. They opened about a year ago – it's a nice small place, with great coffee and friendly baristas. I love going there in the morning at the weekend to get my coffee. It's a good example of a place where baristas want to educate the people drinking their coffee. Among others, they stock coffee from Full Circle Roasters, owned by Brian Birdy – he really loves coffee and he is very passionate about it. One of the best coffee experiences I've ever had was at Alchemy above BT2. I went there on a Saturday morning and ordered an Americano. The barista took my order but mentioned she had an amazing Ethiopian filter coffee; she suggested trying that one instead. I got a sample of this fine sweet coffee made perfectly – that experience just stands out to me. She didn't know who I was: she just wanted to show me something different.
Your Coffee In Five Words
Sharing new experiences with friends. We know that coffee is an enabler for social communication with everybody. One of my favourite things to do is to try new coffees in our coffee lab. Recently we were tasting Colombian coffee and you could see how excited everyone gets when tasting a great new coffee.
---
Fancy checking out Java Republic's coffee? Visit their coffee house in Dublin 2